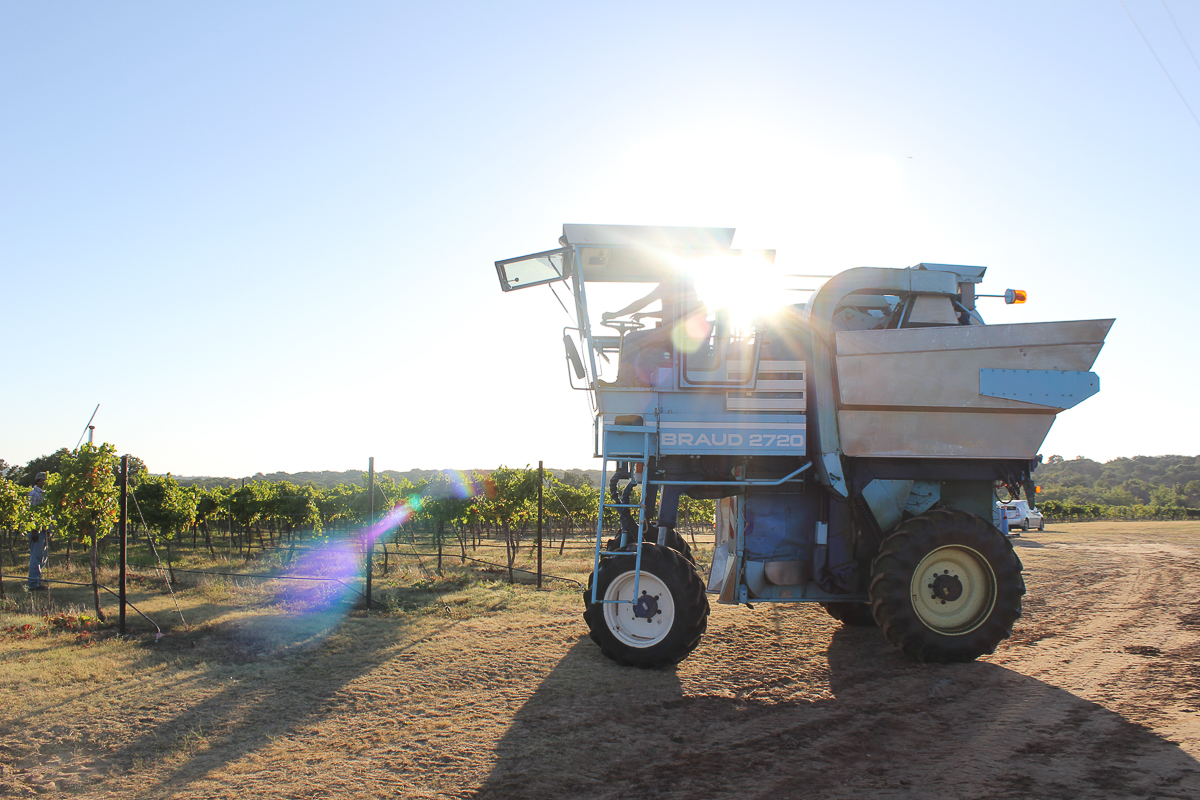 Harvest Update 2016
We started harvesting on July 27th and the first thing to come off was Blue Vineyard Chardonnay. Unfortunately, a few weeks later Bill Blue passed away. The last time I talked to him was in his vineyard when we were harvesting his Viognier. Bill will be a greatly missed part of our community in Comanche and business here at Brennan Vineyards.
I thought we might have a later than normal harvest this year due to all the rain early in the growing season. That "Rain" word will be a common theme throughout this post. However, despite early season rains a warm and dry summer got us back on track for our normal harvesting schedule.
We began harvest in late July, which is typically when we start harvesting our Newburg Vineyard Viognier. The season seemed to be falling in line with normal progression. We pulled off all our Newburg & Blue Vineyard whites and started brining in our early season reds, Nero d'Avola, Tempranillo & Syrah. Quantities were coming in on the light side from our harvest projections. This seems to be a statewide issue in visiting with fellow wineries and growers across the state. The quality has been outstanding so far though.  Most of our wines are still fermenting, but 2016 looks like a very promising vintage so far.
Then the Rains came and have yet to leave. I feel like for once we are lucky to be in the middle of nowhere. The Hill County to our South is getting hammered, as is the High Plains to our North with rain and more rain. We seem to be in a little bubble that is getting far less than everyone else, and for that we are very lucky.
Since the rains have started we have only harvested two things, Newburg Cabernet Sauvignon and Newburg Mourvedre for our Dry Rose. Both of these lots of fruit have been great quality as well. We have also received some of our High Plains fruit in between rains.
The coming years will have lots of firsts for Brennan Vineyards in regards to new fruit arriving from the High Plains.  This year, an aromatic white grape: Malvasia Bianca from Farmhouse Vineyards. And most recently, our first batch of High Plains Cabernet Sauvignon ever from Soleado Vineyards. This too was hand picked in between the storms up there. The fruit looks amazing. We just started fermentation on that this morning.
More updates to come once we finish harvesting. We still have a hand full of reds to pick here and a few more High Plains reds coming our way.
P.S. "Hey Rain, you're DRUNK. Please go home!"
-Todd Webster, Winemaker