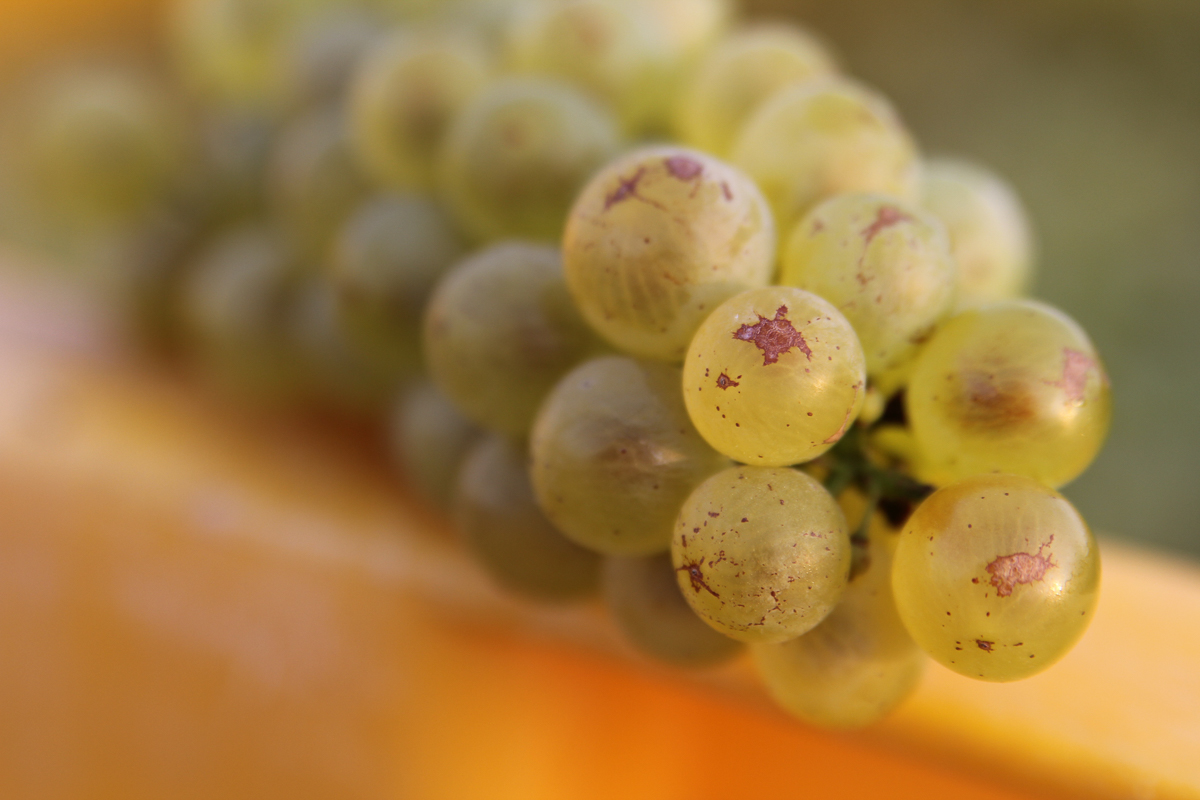 What is Orange Wine?  Before I explain what it is, first let me tell you what intrigued me to make this type of wine.  Grapes average anywhere from 120-180 gallons of juice per ton.  It has been my experience that our red grapes average between 170-175 gallons per ton.  However, our white grapes vary quite a bit.  Our best white grapes might get 150 gallons per ton, but our flagship white Viognier continues to get 120 gallons per ton. 
I know what you're thinking.  Squeeze harder!  That does not work.  We have tried every combination of squeezing the grapes and rotating the press.  We did find that squeezing longer we were able to get a few more gallons/ton.  During harvest, time is not a luxury that we have.  Also, squeezing harder gets you a more phenolic (bitter) juice. 
So, after researching Orange Wine, a common theme emerged.  Higher press yields is a by product of making Orange Wine.  They had me at higher press yields!  We then bought some Orange Wine from Sonoma that was made from Vermentino.  We purchased two versions, Hers (traditional white wine method) and His (Orange Wine method).  The two were staggering in their differences.  The color was very similar, but that is where the similarities ended.  The Hers version is everything you would expect from our Viognier.  It was aromatic, had great acidity & structure, and was fruit forward with a long finish.  The His version was a red wine that just happens to be the color of white wine.  It was full bodied, had lots of tannins and was a very masculine wine.
Orange Wine is a winemaking style that dates back to 6000 BC in Caucasus, also known as the modern day Country of Georgia. Orange wine can be described as a white wine made in the same manner as you make red wine.  Typically you avoid skin contact with white wines.  Whereas with red wine, skin contact is where you get your red color from. 
With our new Brennan Vineyards Viognier 2015 Cellar Select we invited skin contact and fermented the wine on the skins.  When you allow a white grape to be fermented on the skins the wine gains quite a bit of color from the days of maceration, hence the name 'Orange Wine'.  On the palate, it is big, dry, intense aromas of granny smith apples and subtle hints of white flowers, and a beautiful tannin structure.     
Weather permitting our Orange Viognier will be bottled on Monday March 28th.  This is definitely a white wine for a red wine lover.
Cheers!
Todd Webster, Winemaker